FanStar has been the league commissioner of choice for thousands of leagues. In our site you will experience a fantasy service like no other. Here we pride ourselves in making sure our customers, our league commissioners are taken care of with the best customer support in the business.
We have a new app coming in early July. We also have a new interface that is much more responsive than other sites. We added a few more layout options. Instagram injection, Twitter injection, and more coming.
Compare?
We invite you to compare our services with other competitors. FanStar has survived these 25 years for a reason. We provide a league service that is truly customizable in not only scoring but also what information you want your team owners to have. Our tech support is second to none. We know there are services that are provide for FREE, but beware, you get what you pay for.
NO ADS:Privacy
All the big major media companies splash advertisements all over your league site. They REQUIRE that all your league members register on their site so they can spam all of you later. At FanStar we take a different approach. We charge you a very moderate fee, but you get the privacy you want and a clean, league interface with just the information you want. We don't even put our own name/logo on the site. We stand by the mantra: Your league, your way!
Clean, Concise Webscreens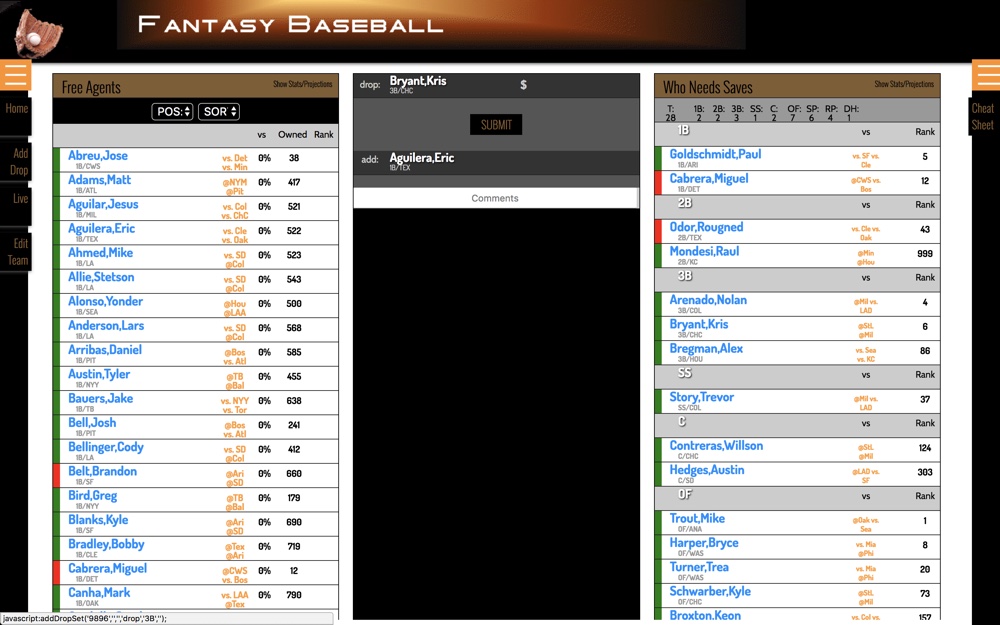 Live Screen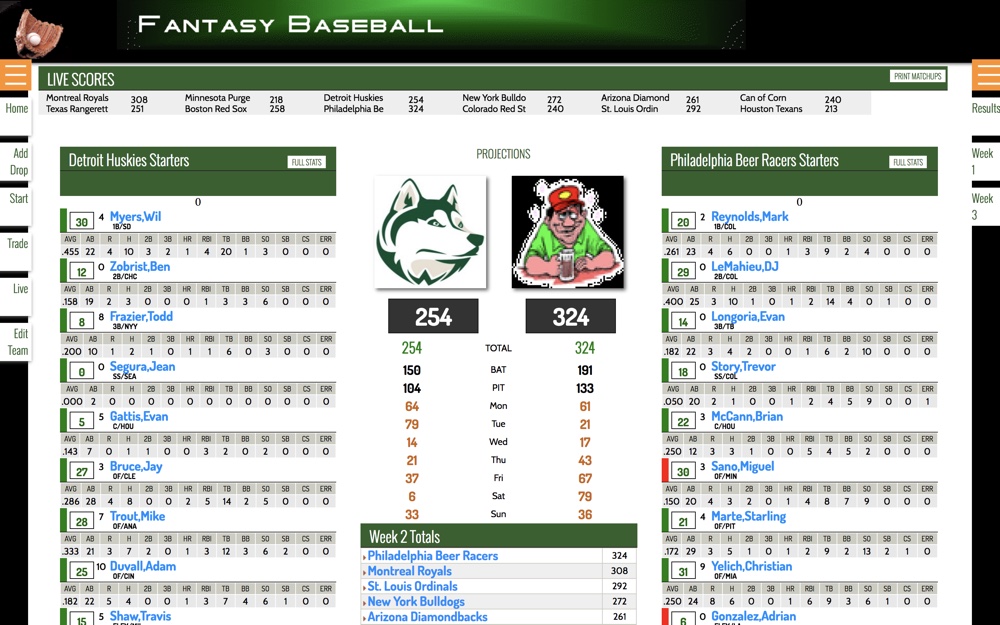 Main Page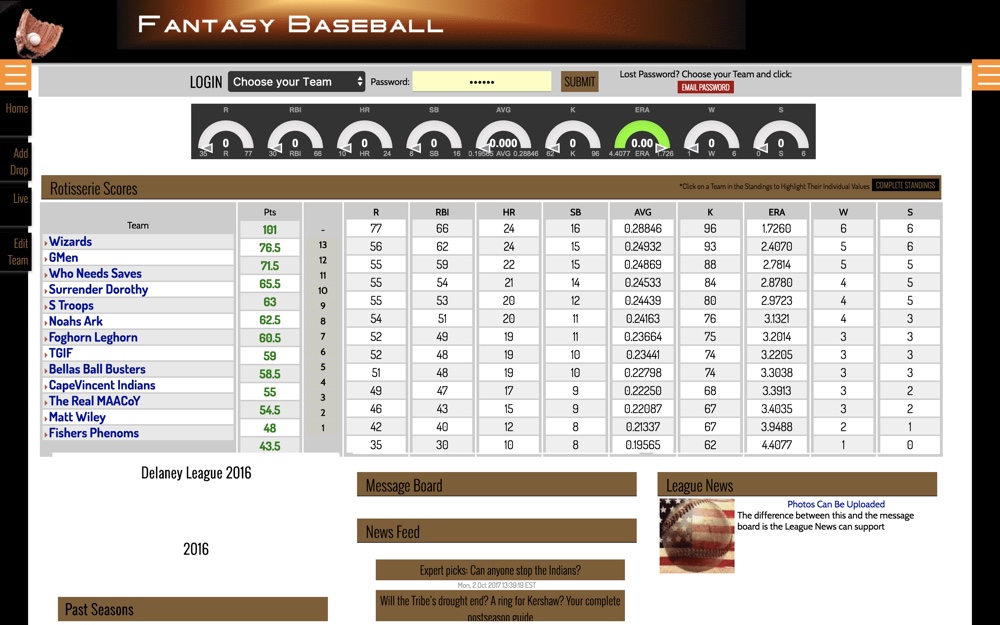 Stats Page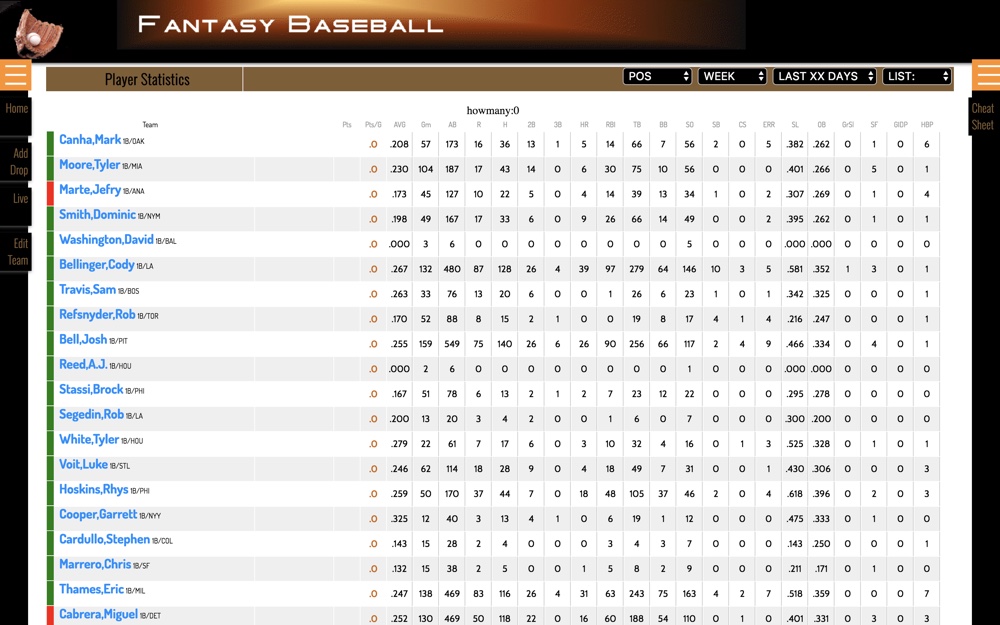 The website is awesome. Tech support is great and you are all doing a great job. Keep up the hard work some of us do appreciate it. Thanks. - Monte

I sent it to the other owners, we love the new interface and it looks great even on phones. Nice work, looking forward to another season with you guys! Keep up the great work. - Jared N

The new look and layout is awesome, good work and thinks for always going forward with the site and improving.
- T Rhodes

I say this every year, but your customer service is one of the key reasons that I continue to use your site. Your willingness to help fix problems quickly is a huge advantage for a commissioner of a league. Thanks again for the prompt response. - Phillip

I also want to thank you for all of your help this season. It was a big step to get our league fully automated, and your assistance was key in accomplishing that goal. There were a lot of tweaks to accommodate our scoring system, and you attended to them with patience and speed. I cannot thank you enough. - vj

Thankyou so much for your help and lightening fast replies, I have given this website alot of praise from people who are interested in FF, sorry for being a pain and thankyou for being so fast and helpful, thats what keeps me coming back. - Jim S